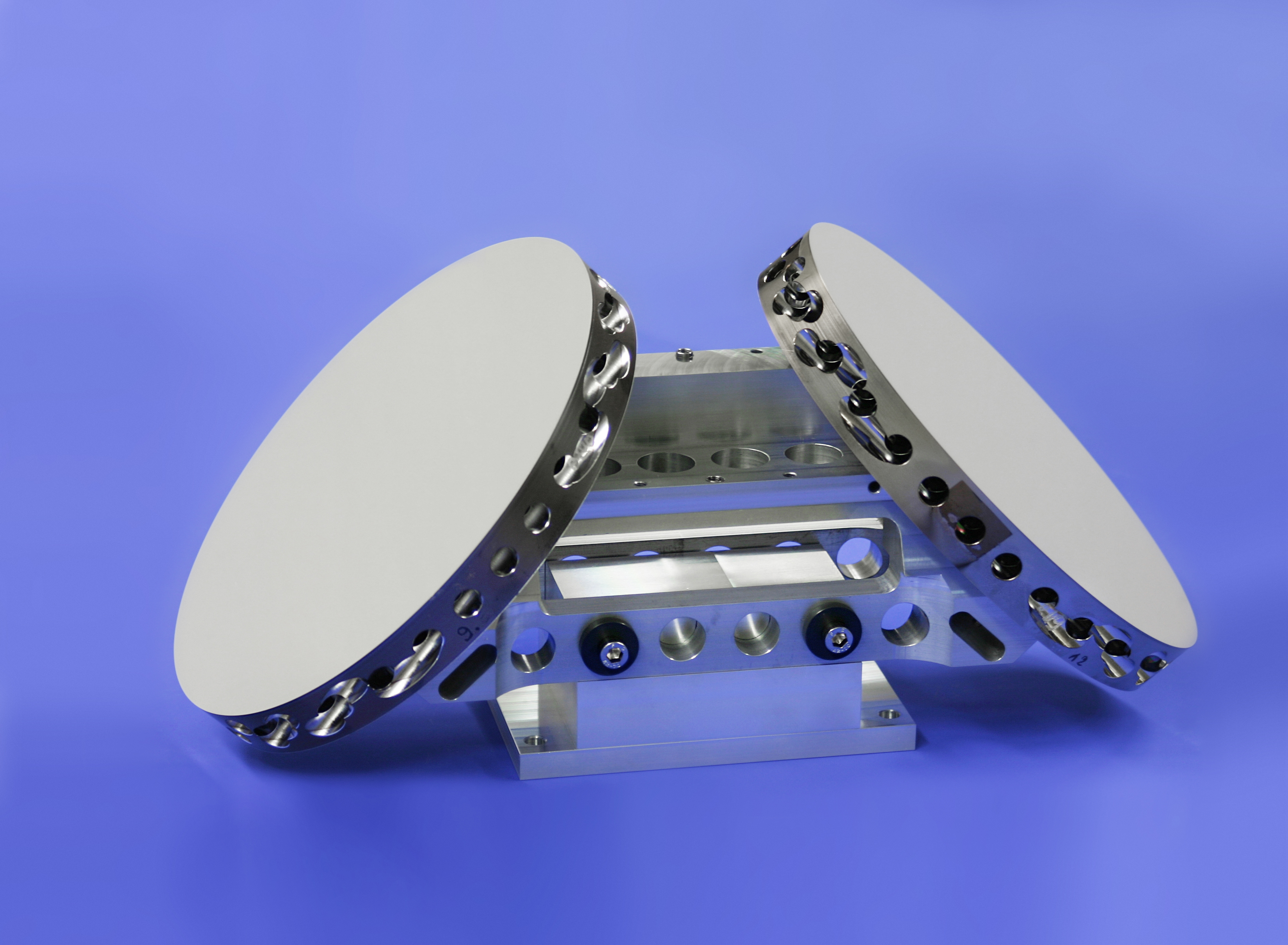 In addition to designing and manufacturing optical components, the institutes of the Fraunhofer Group for Light & Surfaces offer their clients the entire production chain for optical systems. They develop and manufacture customers' specific optical systems for measurement technology, laser processing, aerospace, medical technology and environmental technology, from the prototype to the finished product. In extensive development and test phases, these systems are examined and evaluated up to serial integration. The institutes have corresponding test benches and stands at their disposal for thermal cycling under extreme conditions up to mechanical shock testing.
Optics for space applications
Fraunhofer IOF produces high-precision mirror systems for various applications and wavelength ranges for special needs, in particular for use in space. Mirror systems may be metal-based or coated transparent substrates. Applications range from light-weight mirror systems for space usage to beamforming and deflecting mirrors for high-power lasers all the way to collector mirrors for EUV lithography.
Modern and powerful mirror optics for imaging, spectroscopy and beamforming are based on complex optical surfaces. In the aerospace sector, Fraunhofer IOF researches how to best design, manufacture and assemble modern telescope and spectrometer optics with on-axis and off-axis aspheres, free-form surfaces and structured surfaces (grids).
Micro-Optics
For micro-optic systems, Fraunhofer IOF develops technologies to generate increasingly complex multilayer micro-optic modules. The process is based on the repeated use of lithographic structuring in combination with coating and UV molding. To actively influence the wavefront in an optical system, Fraunhofer IOF has developed various deformable mirrors and active mounts.
Optics for high performance applications
Fraunhofer ILT offers a wide range of services from assembly all the way to characterization, in particular, of optics systems for high-power lasers. The institute focuses on developing multi-beam systems and fast beam deflection systems as well as high-precision drilling, cutting and welding optics for laser material processing. In addition, it develops and builds customers' specific beam sources for terrestrial and space applications. Furthermore, its services range from optical systems for diode, fiber and solid-state lasers as well as packaging of optical systems and frequency conversion.
Large area optics
In the area of coating technology, Fraunhofer IST develops and produces especially coated components for optical devices. The spectrum ranges from large-area highly reflective mirrors measuring from 60 x 80 cm2 up to so-called micro-structured pixel filters for use in 3D measurement technology. In particular, for the pixel filters, the institute applies various thin-film filters, structured by means of photolithography, onto a substrate.