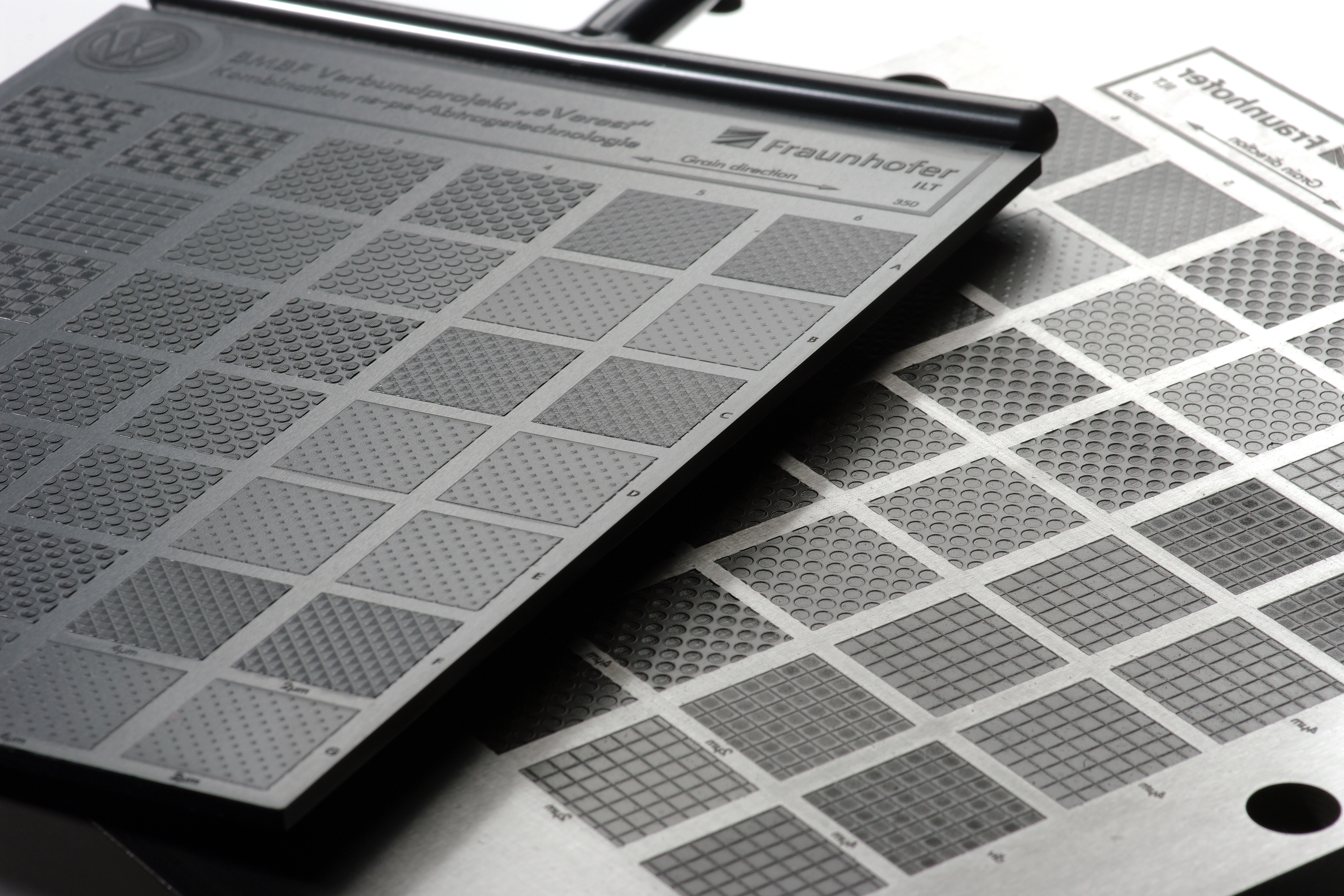 The institutes of the Fraunhofer Group for Light & Surfaces have a wide range of structuring technologies and processes to produce microstructures. In addition to classical lithographic techniques, they use laser-based microstructuring processes with nanosecond lasers, but also increasingly with picosecond and femtosecond lasers. The latter, in particular, make wide range of applications possible in different industrial areas due to the almost athermal process management.
Laser Micro Structuring
As a result of the unique process characteristics, such as the evaporation-dominated material ablation and the minimal heat input into the workpiece, micro- and nanoscale structures can be produced on virtually any surface. Especially in the field of functional surfaces for tribological, optical or biological applications, this type of structuring forms the basis for manufacturing innovative products of the future for numerous industrial branches. Through the use of special interference optics, the institutes can even produce nanostructures with dimensions below the wavelength, such structures are suitable for applications in the field of safety engineering.
Ultra-short pulse lasers with pulse durations of a few pico- or femtoseconds have great potential for use in structuring different materials with high precision, in particular metals, glass, semiconductors, biological tissue. The Fraunhofer ILT and Fraunhofer IOF institutes have developed ultra-short pulse laser systems that provide high pulse repetition rates with high power and excellent beam quality. They can be used to shorten process times but maintain high processing quality.
Thanks to their extensive and modern equipment as well as their in-depth know-how about ultra-short pulse processing, the institutes Fraunhofer ILT, Fraunhofer IOF and Fraunhofer IWS can help applied research apply laser based micro- and fine-machining. Their systems use laser beams to miniaturize functional elements in machine, plant, vehicle and equipment engineering as well as in biotechnology and medical technology.
Lithographic Micro Structuring
In addition to the laser-based microstructuring processes, the institutes also offer other technologies for the production of functional surfaces and components. For example, due to Fraunhofer IOF's existing technological base – photolithography and laser lithography, electron beam lithography and reactive ion etching – it can produce and characterize high-end micro- and nano-optical elements at the highest resolution on up to 12" substrates, even on curved surfaces.
Thin Film Structuring
Fraunhofer IST develops thin-film sensors to measure force and temperature in heavily loaded interaction areas. The sensor technology is based on the piezoresistive properties of diamond-like carbon layers (DLC). The sensor layers are applied directly to the tool or component and are patterned by means of laser or photolithography.
At Fraunhofer IPM, sensors can be produced with bulk or hotplate technology by depth structuring of a few micrometers using RIE and ICP etching systems or wet-chemical etching processes. For example, moisture, temperature and gas sensors can be integrated on a chip. Microstructured surfaces allow modulatable IR emitters, for example for micro-optical applications.
OLED Technology
Fraunhofer FEP, on the other hand, has a great deal of experience in processing organic semiconductor materials, from which organic light-emitting diodes (OLED) and OLED microdisplays are developed. The structuring of organic layers is one of the most challenging issues that Fraunhofer FEP has solved with electron beam technology at. Electron beam microstructuring makes it possible to structure the OLED emission directly in high-resolution or to locally evaporate material via a thermal input.