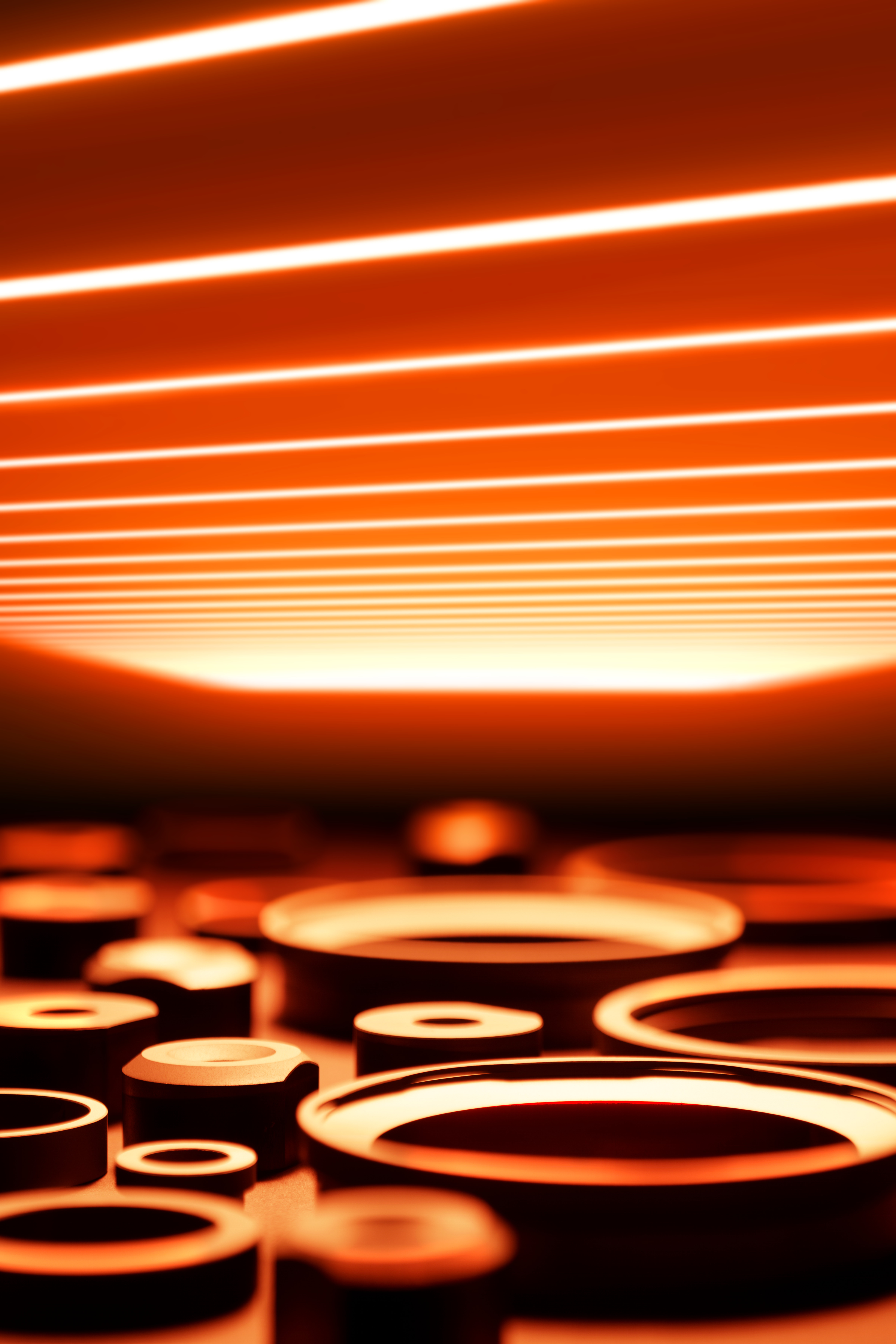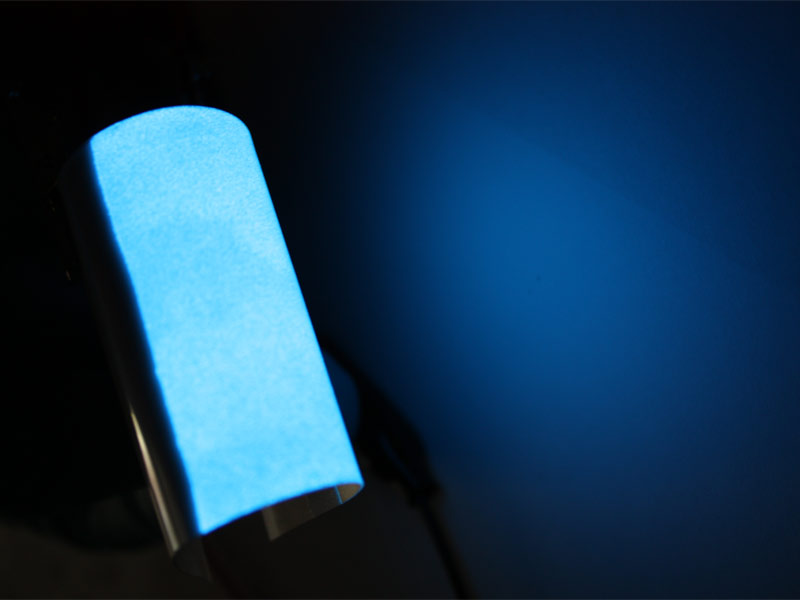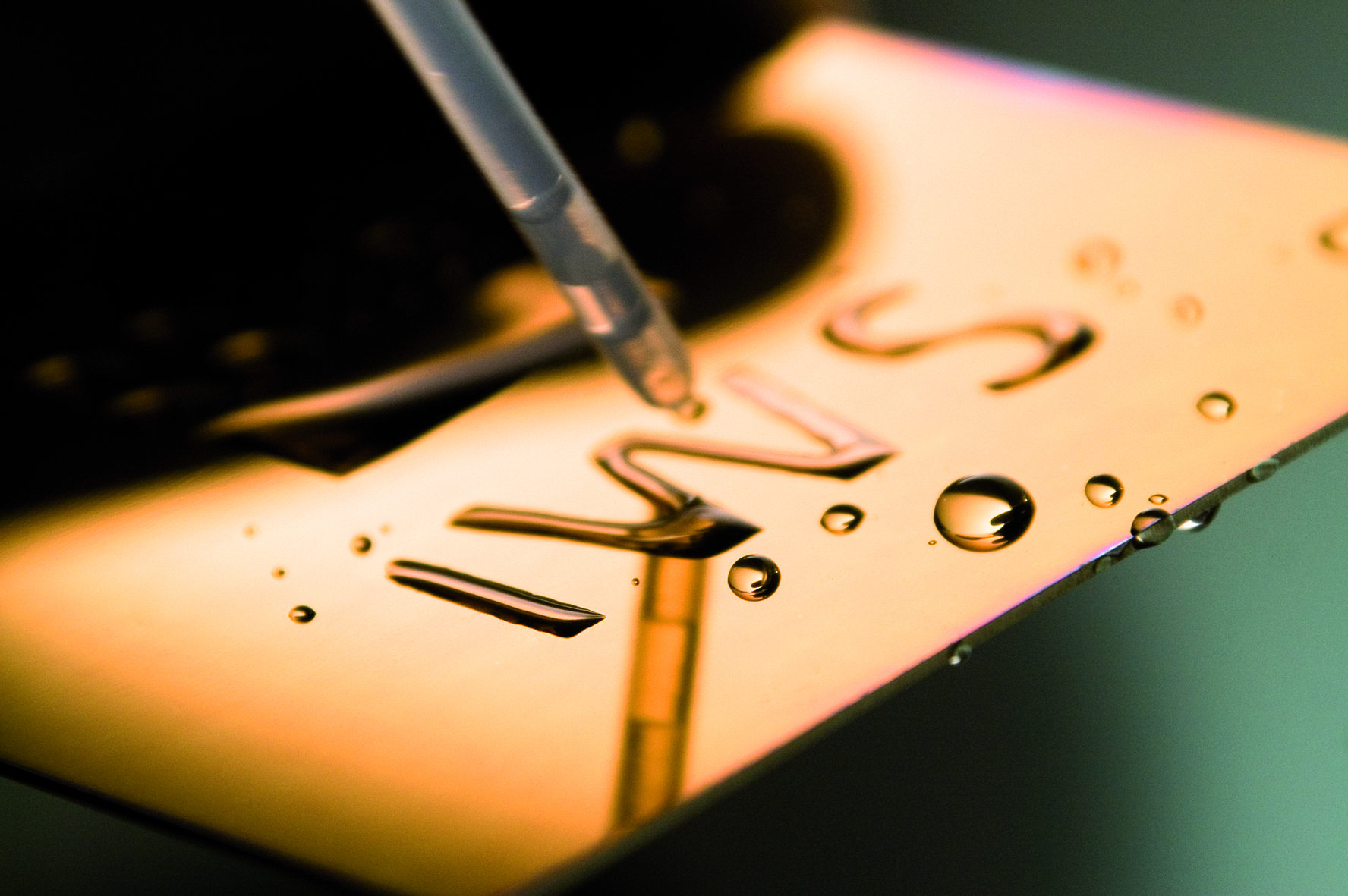 In the field of coating processes, the Fraunhofer Group for Light & Surfaces has a great deal of expertise in gas- and liquid-based coating processes as well as in physical coating processes.
In the hot-filament CVD process, the reactive gases used for layer formation are brought into contact with hot wires placed in front of the substrate surface. A chain of surface and gas phase reactions leads to activated CVD deposition.
In plasma-enhanced chemical vapor deposition (PECVD), plasma assists in the deposition of layers from the gas phase. Here, precursors are used as gases or vapors, which contain the elements of the layer material.
Wet-chemical Coating Technology
In the field of wet-chemical coatings, Fraunhofer IST relies on, among others, galvanic processes. These are atmospheric pressure processes in an aqueous environment for the deposition of metals. In this process, metal ions dissolved in the electrolyte are deposited on a substrate while exposed to an electric field. These processes are primarily applied for corrosion and wear protection as well as for decorative coatings.
Metals that cannot be deposited from aqueous electrolytes, for example aluminum, can be deposited by means of galvanic coating: with ionic liquids, i.e. salts, which are liquid at room temperature.
Layer-by-layer processes are based on the use of polyelectrolytes. These are polymers with positively or negatively charged ionic groups. In aqueous solutions, they generally adsorb strongly on oppositely charged surfaces. In this way, single-layer polyelectrolyte layers can be generated. Polyelectrolyte multilayers (PEM) form by successive adsorption of positively and negatively charged polyelectrolytes.
Coating System Technology
Fraunhofer IWS develops prototypes of reactors for surface treatment, such as fine cleaning, functionalization or etching and for the production of oxide and non-oxide coatings, nanoparticles and nanotubes (carbon nanotubes, CNTs) as well as of carbon fibers. The surface properties of many materials are particularly important for the corresponding application. By means of functional thin films, the institutes can equip the surfaces, for example, with conductive, scratch-resistant or self-cleaning properties. By developing nanostructured materials with defined surface chemistry, the group provides the prerequisite to decisively improve the efficiency of the next generation of double-layer capacitors and batteries.
For the deposition of nanometer single and multi-layers for EUV and X-ray optics, the group's institutes use magnetron and ion-beam sputter deposition as well as pulse laser deposition processes. The layer systems meet the highest requirements in terms of layer thickness accuracy, roughness, chemical purity, lateral homogeneity and reproducibility. In addition to developing and manufacturing precision coatings, the institutes have many years of experience in characterizing and modeling nanometer coatings.
At Fraunhofer IWS, gas-phase (CVD) and liquid-phase processes are being developed for the application of coatings over a large area and based on new materials. The institute focuses on generating transparent, functional thin films and porous carbon layers for electrical energy storage.
Plasma-Enhanced Chemical Vapor Deposition (PECVD)

PECVD, which uses microwave or high-frequency (RF) plasma, is an established process that deposits silicon-based polymer layers for different applications. Gaseous monomers are let into a reaction chamber and ionized, excited or decomposed by plasma, and the fragments are subsequently deposited on the substrate surface. The layers have a higher density, higher hardness and a higher barrier effect than chemically cross-linked polymers. Above all, the process is suitable for large-area coating of temperature-sensitive materials. For example, permeation-barrier coatings or also optical layers or layer systems can be applied to plastic films. The layer properties can be varied relatively simply by adapting the plasma excitation and by changing the composition of the process gas.
PECVD coating is one of the core technologies of Fraunhofer FEP, which has developed various types of plasma support: The magnetron-assisted process (magPECVD) has the advantage that good layer homogeneities and high coating rates can be achieved over large areas. In addition, the process can be easily combined with other coating processes such as magnetron sputtering since both require the same process pressures.
With arcPECVD, both very dense plasmas and very high coating rates can be achieved. The process pressure can be varied within a wide range, making the process also compatible with other vacuum coating technologies.
High-frequency PECVD is characterized by an even greater variability in the process pressure and allows for a very wide range of monomers.